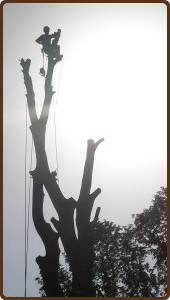 Nicholson Aboriculture Services
Nicholson Arboriculture Services was formed in 2007 by James and William Nicholson.
After spending a couple of years studying Arboriculture and Horticulture at Merrist Wood college, we then worked for four years "learning the ropes" as tree surgeons for some of Northamptonshire's top tree surgery companies. Moving to France in 2007 and seeing a niche in the market and an opportunity to excel in the tree industry, we decided to create Nicholson Arboriculture Services.
Based in St Estephe we operate throughout the Dordogne and surrounding areas, Nicholson Arboriculture Services are ideally situated to provide a prompt and reliable service for all our clients' tree care requirements.
All of our tree surgeons are all fully insured and qualified with all necessary current N.P.T.C modules for arboriculture. We undertake site-specific risk assessment and we only use the most modern equipment. We are committed to recycling 100% of waste arising from our operations. Our tree surgeons take care to use environmentally friendly products such as biodegradable oils, and low emission power tools.
Our enthusiasm and interest in the well-being of trees is reflected in our work. We always give an unbiased and honest opinion and would never recommend any unnecessary work.